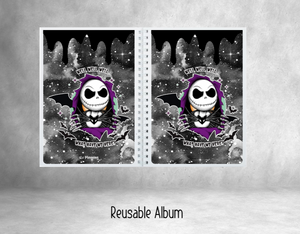 Jack (Reusable Album)
*These reusable sticker books are made of a hard plastic cover with a designed printed on sticker paper. It includes 50 double-sided silicone release paper - that's 100 pages total!
*Reusable sticker books are perfect to store and organize your kit leftovers, last few stickers on a sampler sheet, and more!

*The albums are approximately 4x6 or 5x7

*Please Note: Depending on the Sticker sheet, some may stick more than others. 

Check out our Instagram page for sales and coupons.

Instagram: @sLoPlanning

There will be NO refunds or exchanges so please make sure you are 100% sure when purchasing this listing.